Profile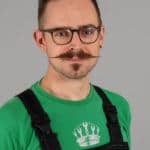 Mark Bentley
Curriculum Vitae
Education:

GSCE's, then started my A levels but left half way through due to illness, then took on an Apprenticeship for 5 years as a Toolmaker

Qualifications:

GSCE's Advanced City and Guilds Apprenticeship in Manufacture and Production

Work History:

Tool Maker - RyeTools then Prototype and Production Engineer - PACE Cycles

Current Job:

Workshop Manager - University of York Biology Research Workshops

Employer:

BIOLOGY RESEARCH WORKSHOPS
About Me

I'm an Engineer for Scientists

Read more

I live in on the edge of the North Yorkshire Moors, I'm a keen mountain biker and runner.

I'm the person my friends and family always turn to when they need something making or repairing.

I love to cook and bake bread…also eat said food and bread, hence the hobbies to help burn it off.

My Work

Workshop Manager - Biology Research Workshop

Read more

I started work at the University 10 years ago.

What I do is design and make bespoke and custom made "things" for scientific research and teaching practicals.

A Scientist (professor to masters student) will come to me with a problem/idea of some type of experiment they want to carry out, I then have to come up with the solution.

I work for the Biology Department so this can range from tiny microscope parts, automatic doors for ants, small scale AD (anaerobic digestor) plants to robots that wiz along ropes for GHG (green house gas) sampling.

I get to use all manner of manufacturing processes to make these things, precision milling and lathe machines, laser cutters and 3D printing. To welding and wood work.

My Typical Day: No day is the same.....!!

Read more

I have to drive 35 miles to work first.

Get to work for 7:45, make a coffee and get my overalls on.

Fire up the PC and warm up any machines I know I'm going to be using that day.

I have a very long to do list of current jobs, paper work for the workshop like health and safety, and ordering in parts and materials.

I have an apprentice in the workshop now so this takes a great deal of time as it's 4 years of training, so I organise jobs for both of us.

I will answer any emails I have got in over night and then crack on with making things…

I run an open door service so anyone needing urgent work can speak to me right away, this is usually emergency break downs of lab equiptment.

I'll have several machines running, people coming every hour needing help/advice, an apprentice to train and mentor. So my days are always busy.

What I'd do with the money

Look at 3rd world training of engineers

My Interview

How would you describe yourself in 3 words?

Determined Thinker Perfectionist

What's the best thing you've done in your career?

Seeing something you have designed and made out in the world working

What or who inspired you to follow your career?

Complete accident

What was your favourite subject at school?

Art

What did you want to be after you left school?

Dentist

Were you ever in trouble at school?

Sometimes

If you weren't doing this job, what would you choose instead?

A tree surgeon

Who is your favourite singer or band?

Foo Fighters

What's your favourite food?

Beans on toast

What is the most fun thing you've done?

Traveled round Tasmania

If you had 3 wishes for yourself what would they be? - be honest!

To be happy, to not worry and be with my friends and family

Tell us a joke.

Two eggs in a frying pan...one says to the other "it's hot in here"...the other one screams "arrrrggghhh a talking egg..."
---
---